Remus - 209018 5518 - F150 Raptor Racing Cat-Back Exhaust w/ Resonated Mid Section (17-19)
by Remus
Fitment
2017 - 2020 Ford F-150 V6 3.5L HO EcoBoost Raptor
Product Details
The REMUS Cat Back System for the Ford Raptor F-150 3.5L V6 Ecoboost is a new entrant from a famed Austrian exhaust manufacturer. 

Building off of the success of the REMUS cat back system offered for the Ford Focus RS, this system features a full cat back system that increases the pipe diameter from 70MM to 76MM while also introducing the triple 138MM by 75MM side exit tips. 
The activation of the valves is carried out using the original actuators via the vehicle onboard electronics. The use of racing products and products which do not have EC approval is generally not permitted on public roads.
Features
Aggressive racing sound
Shot blasted surface, 100% stainless steel
Performance increase, low back pressure
Light weight construction
Perfect shape and fitment
Handmade in Austria
24 months warranty
System Includes:
Resonated center section

Sidepipe right side

With 3 tail pipes 138x75 mm angled
Video 
About Remus
The story of REMUS has started in 1990 with only five employees and a lot of good ideas. Today the family enterprise is world market leader in sport exhausts, performing business in 60 countries all over the world.
The green grass and many good ideas. "We printed flyers and went to the IAA Automobile Show Frankfurt in September 1990. My husband promised potential customers a delivery schedule of just before Christmas, but we do not even have a production hall! I was under constant shock!" says Angelika Kresch, CEO REMUS from the very beginning.
I knew it was virtually impossible, but we were going to make it!" and indeed it turned out that way. Under full pressure, the production hall was completed and the production started. "During the morning in the production, during lunchtime and in the evening working on R&D and in between, training staff and optimizing production techniques. As a team, we were able to successfully manage all our duties says Otto Kresch, CEO REMUS. That is how the wolf began its string of successes and continues to do so. In less then 5 years, REMUS managed a dynamic leap to become world leader in the manufacturing of sport exhausts In 5 different expansion stages, the production area was increased over the years and in spring 1999 reached a massive 12.000 square meters. In 2002 the new Research and Development centre was opened, this opened up many different avenues in the development of mechanical and acoustic features for sport exhaust systems. In 2006 a new hall was build with approximately 5.000 square meters production space and featured a state of the art logistic centre to serve the demands of different markets and clients. Today, not only tuners but many well know vehicle manufacturers are REMUS customers. Over 90% of the production and increasing steadily is exported to over 60 countries world wide. From an idea, an ambitious plan and only 5 employees, REMUS become over the years a renowned international business and is today a major global partner in the development and manufacturing of many types of exhaust systems.
PRODUCTION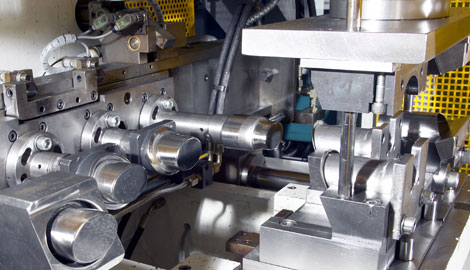 REMUS manufactures using the latest state of the art machinery to ensure top quality for a global market Modern machinery, such as laser cutting, Hydro forming and CNC controlled pipe bending machines combined with special processing techniques guarantee products with exceptional forms and perfect fitment. Thin steel welding processes, in manual form and robotic controlled play an important part in the manufacturing process of REMUS high quality sport exhaust systems. The know-how of the employees is an essential element of the manufacturing process and forms in combination with the convincing technology the basis for an excellent product. Certification such as ISO 9001, ISO 14001 and even ISO/TS 16949 which is required within the automobile industry proves that the world leader in sport exhausts is an experienced and competent partner for the international automotive industry.
RESEARCH AND DEVELOPMENT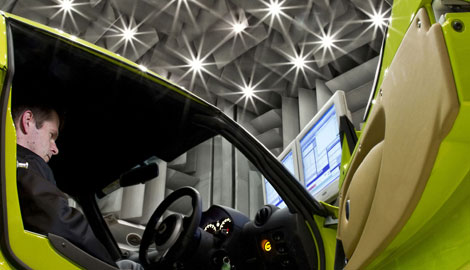 The R&D department plays an important factor within REMUS. The fundamentals of every top quality exhaust system are a combination of acoustic, thermal and mechanical properties. These are trademarks of the REMUS R&D department. The new Research and Development centre which was opened in 2002, together with the know-how of the R&D team is the fundament for the success in this sector. Under the umbrella term "Sound Design" the technologies for measuring and evaluating different acoustic sounds which are developed and adapted to suit different customer requirements. The heart of the R&D centre is the highly modern acoustic sound chamber with a 4 wheel drive dynamometer which can simulate different parameters for car and motorcycles. Furthermore, an in-house ISO certified, heated pass-by test section for measuring the noise reflected from accelerating road legal vehicles. This enables all R&D processes to be carried out internally. The combination of modern research and development facilities, highly qualified staff and the latest state of the art machinery ensures that REMUS will continue to dominate world wide.
SOUND ENGINEERING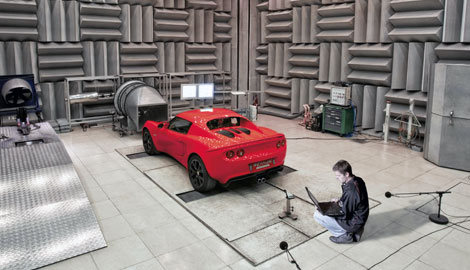 The REMUS R&D centre offers a wide range of possibilities regarding the acoustic development of sportexhaust systems. Due to tight legal regulations and more specific customer requirements it became fairly difficult to develop the perfect sound. A considerable part of the REMUS engineering crew works on "Sound Design". In the REMUS acoustic laboratory sound can be individually optimised, ranging from full racing sound to sonorous street sound. In this sense, costumer specific sound is generated and sent digitally to the customers of the automobile, motorbike or tuning industry. Highly qualified employees, "state of the art"-technologies and multiple development loops grant not only the creation of the distinctive REMUS sound but also of customer specific sounds. The acoustic test room offers the possibility of carrying out all acoustic measurements under standardized conditions. Apart from the obvious insulation against all external noise, this room absorbs virtually all noise directly emitted by the measured object. This prevents reflections, echo and hall effects and ensures -conclusive, repeatable measurements. The room concept allows acoustic tests to be carried out independent of weather and under strict observance of secrecy regulations. These tests include, among others, measurement of noise from moving as well as stationary vehicles, internal and external sound quality measurements with head and torso simulator, as well as sound intensity measurements to determinate the location of sound sources.
REMUS has available its own heated pass-by test section for measuring the noise reflected from accelerating road vehicles. The automated test can be carried out by the test driver by means of a notebook situated in the vehicle. The notebook constantly communicates with a stationary host computer which processes and stores all data. This system informs the test driver about all test data in real-time.